December 6, 2016
What? No curry and quiz?
We have decided to give our stalwart curry and quiz organisers and quiz masters a well-earned rest this year and, to ring the changes, we will be putting on a Race Night on Friday 3rd February 2017 instead. As this is our members' winter social we will be limiting the numbers to 60 members and friends, as previously, and to give us more room we will be holding the Race Night in the somewhat larger hall at Cheriton School.
Those of you who are imagining a film showreel of geegees racing, on which you have placed your bets, think again! This format is rather different and includes audience participation, teamwork and physical activity!
As with the quiz night there will be food included – jacket potatoes with chilli con carne (veggie version available) and rather than you having to bring your own tipple, there will be a bar selling beer, wine and soft drinks.
Regarding the 'racing', you will be a member of a team, there will be several races (probably six) with grand titles such as the 'Murdered to Death Handicap', the 'Lord Arthur Saville's Fillies Stakes' and the 'Season's Greetings Meeting' and team members will be required to 'wind in' their horses (see one or two pics). There are opportunities to have a flutter too, and the whole evening is organised and run by a professional, Nick Rowley of Moonlight Events.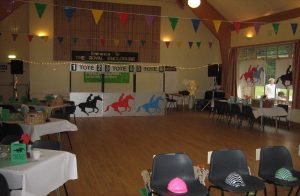 As well as being our annual 'social', this is the first of many fundraising events to help raise money for the purchase and refurbishment of the Cheriton Village Hall, our permanent home for the past 55 years and hopefully for the next half century. In fact our next three events – the Race Night, The Even Greater Cheriton Variety Show (22-25 March) and Another Murder in Cheriton! (17 June) will all be fundraisers for the village hall, so do come and help us support a worthy cause.
If you would like to come to the Race Night you will need to get in fast, as spaces are limited and we have no doubt that it will prove very popular. This year, for the first time, we are making the tickets available through our normal online box office, which also has a telephone booking system.