September 19, 2018
Ropley Dramatic Society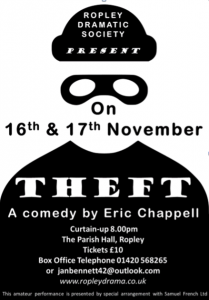 Tickets are now selling for Ropley Dramatic Society's autumn production, Theft, a two-act comedy by Eric Chappell.  Imagine returning from a pleasant anniversary celebration with some old friends to find that your home has been burgled – and the burglar is still in the house! For a while he masquerades convincingly as a policeman but, when his true identity is revealed, it transpires that he knows various somewhat uncomfortable secrets about each character! A well-written, full-length comedy with plenty of surprises that will keep you entertained up to the very end and send you home feeling that you have had an excellent evening with plenty of intrigue and good humour!
Performance dates are 16th and 17th November in Ropley Parish Hall, curtain up 8.00pm.
To reserve your tickets (£10 each) please email or telephone 01420 568265.