April 1, 2013
A Close Shave!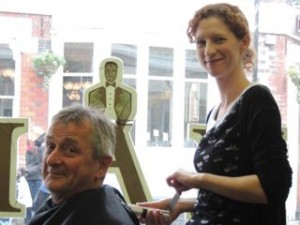 When Cheriton actor David Cradduck was asked to play the part of a bald hair specialist in the upcoming production of A Bolt from the Blue, he said "As long as it doesn't mean shaving my head".
But only a few weeks later he is seriously planning to adopt the snooker ball look in order to combine authenticity with the chance to to raise some funds for Naomi House and the  work they do providing 24/7 care to children and young adults with life-limiting conditions.
Some might say a cut too far, "but it should grow back" David says (optimistically perhaps…).
If you would like to help this great cause by sponsoring David, you can sponsor him online by clicking here.