February 6, 2017
Race Night a great success!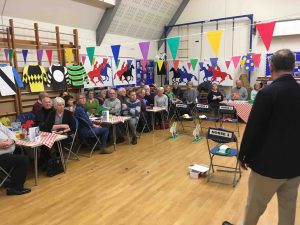 Cheriton Players' annual social do, this year to raise funds for the Village Hall. Huge fun, a lot of work by a lot of people – thanks to the school for allowing us to use their (bigger) hall for the event, to the chilli makers, the people who served the food, worked the bar, washed up and ran the tote. Thank you to those who helped set up and take down. Big thanks to Nick Rowley of Moonlight Events who ran the races like clockwork, to the village hall committee for their support, to the people who attende
d and gave generously and to all the 'jockeys' whose wrists are probably only just recovering! The end result was a very impressive £526 for the village hall and a great kickstart to the fundraising campaign to purchase the hall and refurbish it. Final thank you to Hattingley Valley Wines who kindly donated a bottle of their Classic Cuvée as a prize (won by Geoff Ellis!).
The evening was such a success, it is highly likely that we will repeat the whole thing, perhaps next year!