January 8, 2018
Communicating Doors readthrough and audition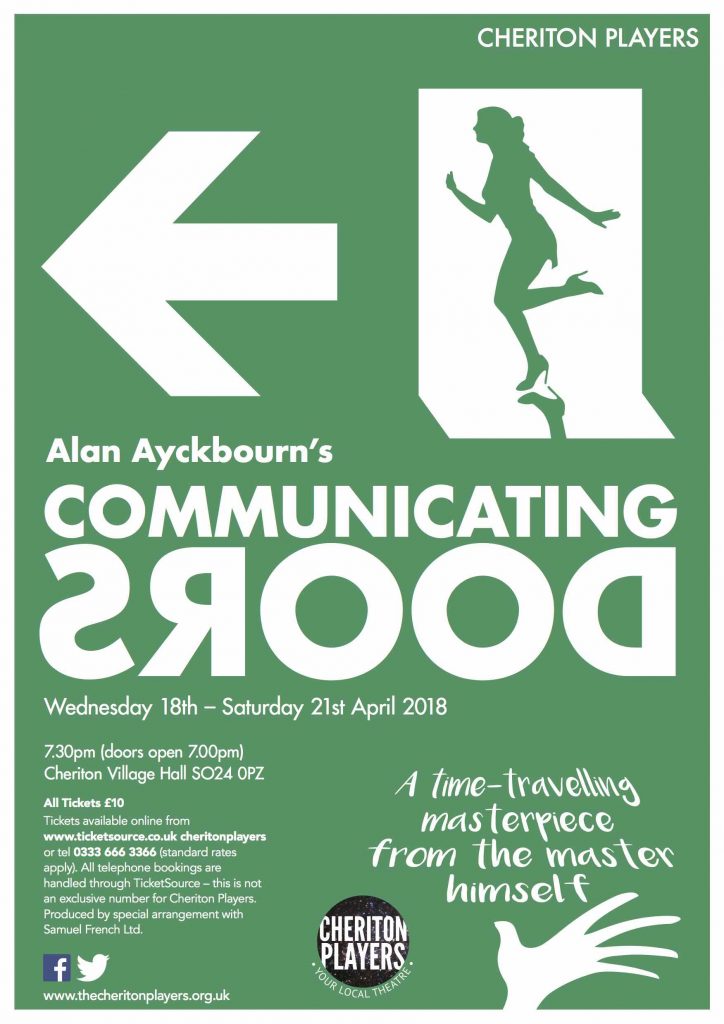 Tuesday 9th January sees the start of the 2018 season for Cheriton Players with the first readthrough for the spring production, Communicating Doors, by that master of the dark comedy, Alan Ayckbourn. Set in a hotel room between 1974 and 2014, a time travelling dominatrix finds herself embroiled in her client's past.
There are parts for three men and three women and director Craig Robb is hoping for a good turnout. See below for cast list. The casting/audition/readthrough is on Wednesday 17th January.
If you are interested in an acting part, or you would like to get involved backstage, we'd love to hear from you. If you can't make the readthrough, not to worry – let us know and we'll pass your details on to the director and his team.
Characters are as follows (ages are guidelines only):
○ Reece (a businessman, aged 30, 50 & 70) – this role could be split between two actors, one playing the older version(s) and one the younger.
○ Jessica (his first wife, aged 25 & 45)
○ Ruella (his second wife, aged 45)
○ Julian (his business associate, aged 45 & 65)
○ Poopay (a prostitute, aged 33)
○ Harold (a house detective, aged 35 & 55)
Rehearsals will initially be on Tuesdays and Wednesdays until February 22nd when they will be on Mondays and Wednesdays. All rehearsals will take place at 7.30pm in Cheriton Village Hall unless notified otherwise. The run is 15th – 21st April.